President Trump Announces Israel – Sudan Peace Accord
Robin Rowan 10/23/2020 – President Trump has coined the term "Circle of Peace" by announcing another U.S. brokered peace deal between Israel and Sudan. Sudan is now the third Arab nation, following UAE and Bahrain, recently aligning with Israel in full diplomatic relations. President Trump declares many more nations are coming into similar agreements in the next weeks and months.
This is significant as Khartoum, Sudan is the location the Arab League members Iraq, Egypt, Saudi Arabia, Yemen, Kuwait, and Iraq met in 1967 stating that Israel had no right to exist. After the Arab nations of Egypt, Syria, and Jordon aligned to destroy Israel in the 1967 war and were defeated, the Arab League met with other Arab nations  and signed the Khartoum Resolution which pledged "No peace with Israel, no recognition of Israel, no negotiations with Israel."
Now there is peace and full diplomatic relations between Israel and Egypt and with Jordan. In 2020 President Trump has brokered peace between Israel and the United Arab Emirates, Bahrain, Sudan, and pledges more to come. He calls it the "Circle of Peace."
In addition, Saudi Arabia has given Israel permission to use its air space for commercial flights, something unheard of a year ago. Before this historic peace between Israel and Arab nations started happening, Israel has to fly hours around the region in order to fly east.
Sudan lies south of Egypt is and was previously listed on the Department of State list of 'State Sponsors of Terrorism.' Secretary of State Pompeo has been working with Sudan and in 2019 Sudan transitioned to a civilian-led government. Secretary Pompeo stated that Sudan has done everything that they needed to do to be removed from the terror list. SOS Pompeo also made sure that the victims of the previous terror by the former leaders of Sudan were compensated and they have accounted for $335 million to go to the victims of those terror attacks and Sudan has fully complied.
The lifting of the naming of Sudan from the State Sponsors of Terrorism list also allows trade between Sudan and the United States and now Sudan and Israel with this new accord of peace and diplomatic relations.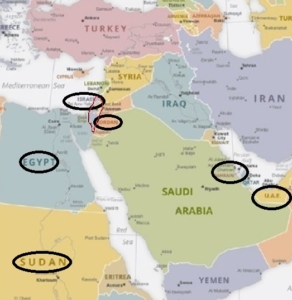 Prime minister Netanyahu joined by conference call on October 23, 2020, as a press conference announcing the peace was held in the West Wing.
PM Netanyahu said since the peace deals with Bahrain and The United Arab Emirates business is opening up so fast between the nations it is stunning. Container ships now can come to Israel with products that are expensive in Israel. A ship containing washing machines arrived last week from UAE. This will make products less expensive in Israel.
The access to fly east over Saudi Arabia and open travel between Israel and Bahrain and UAE is bringing an accelerated shift in levels of business and tourism and opportunities.
President Trump and Prime Minister Netanyahu promise this is only the beginning as many more nations are in process of joining the "Circle of Peace."