Help Fight Anti-Semitism and Educate others with Truth
TRUTH TO POLICY IS AS SISTER WORK TO CHURCH FOR ISRAEL
The website and classes for Truth to Policy are in process and will work hand in hand with Church4Israel.
One Time Donations to support this work are needed and very appreciated. You do not have to have a paypal account.
Monthly partners needed to get the classes and webinars prepared.
All Founding Monthly Donors of $25 or more will get upcoming classes and books free
Church4Israel is an educational ministry and not currently a 501c3. Even though we operate at a substantial loss each year, we are not an official 'not-for-profit.' Political advocacy for Israel is more important than offering tax-deductible contributions at this time.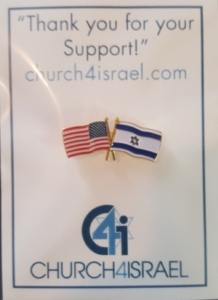 All who give are offered this US-Israel lapel pin with our gratitude. Please be sure to include your mailing address with your donation.

Be assured, your information will not be shared with any other organization.
Every little bit helps as our administrative costs need to be met!
Mailing address is
Robin Rowan
 1634 Old Hwy 5 Ste D5-102, Woodstock, Ga 30199
Thank you and may God Bless you!