Help Fight Anti-Semitism and Educate others with Truth
One Time Donations to support this work are needed and very appreciated.
Robin Rowan, the author and founder of Church4Israel, has been invited to participate in the Christian Media Summit in Jerusalem in November 2019. I am honored to be one of 100 top Christian Journalists globally to receive an invitation from the Israel Government Press Office. However, I can't go without your help. Airfare is needed.  
EVEN BETTER,  MONTHLY PARTNERS!
Monthly Partners are very appreciated to help us meet our regular costs and reach more people. On the giving screen, Just hit "Set Up Automatic" to Donate monthly. Thank You!
Church4Israel needs $25 per month partners in order to produce the videos and webinars you have asked for!
This GIVE button is via Tith.ly, it is easier than Paypal. If you have ZELLE with your bank or prefer PAYPAL, you can easily send money by using the email robinrowan2012@gmail.com or Church4Israel@gmail.com. They are both connected to the Church4Israel/Authority Ministries account.
Church4Israel is an educational ministry and not currently a 501c3. Even though we operate at a substantial loss each year, we are not an official 'not-for-profit.' Political advocacy for Israel is more important than offering tax-deductible contributions at this time.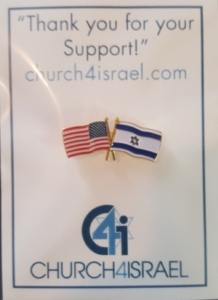 All who give are offered this US-Israel lapel pin with our gratitude. Please be sure to include your mailing address with your donation.

Be assured, your information will not be shared with any other organization.
Every little bit helps as our administrative costs need to be met!
Mailing address is
Church4Israel
c/o Robin Rowan
 2603 River Rock Court, Woodstock, GA 30188
Thank you and may God Bless you!