CELEBRATE JER

USA

LEM!
It is the 70th Anniversary of Israel and the 50th Anniversary of a unified Jerusalem!
Celebrate with us. See below for Monthly Partnership.
Enjoy this commemorative magnet of President Trump Praying at the Western Wall. It started with PRAYER!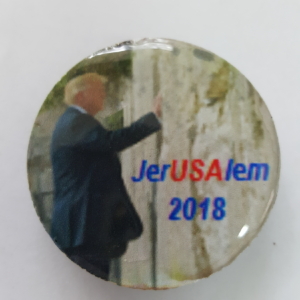 I hand designed this specialmagnet as a great way to remind us to pray.
A magnet is yours with a one time donation of $10 or more.
If you would like more than one pin or magnet, please donate accordingly so we can cover costs of making them and the packaging and shipping as well. Please sow your best gift, there is a lot of work to do this year.
The standard U.S.- Israel Lapel pin is also available if you prefer.
Please be sure to check the "share my mailing address with Church4Israel" and if would like more than one, feel free to email me at Church4Israel@gmail.com to specify your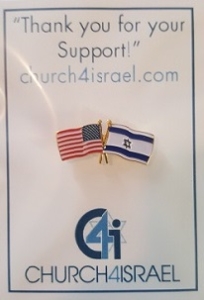 request.
Donate below a one-time gift. You will able to tell us if you prefer the Magnet or Pin at checkout. You don't need to have a PayPal account for a one-time donation.
Be assured, your information will not be shared with any other organization.
EVEN BETTER,  MONTHLY PARTNERS GET MORE!
Below  is an option of a Monthly Partnership. Our Monthly partners of $10 per month will receive a Pin and Magnet, access to our private Partners Facebook page with behind the scenes updates and videos. Monthly Partners of $25 or more will also receive  access to Webinars and Conference Calls on how to have an effective voice to Congress, and updates on important legislation being worked on. My personally designed Powerpoint presentations to give to your own Church or Organization will soon be available to monthly partners as well.
You can choose the amount you would like to give each month using the drop down menu then hit "Subscribe".
Contact Robin at Church4Israel@gmail.com if you need any assistance or have questions. I will be happy to talk by phone.
Stayin' Alive, Stayin' Alive! Thanks for your help!
Your donations are needed and used for
 – Content Publishing  – Internet Hosting and Technical Costs    – Promoting posts on social media to reach more people with education  – Travel Expenses for meeting with Congress regarding Israel issues
Church4Israel currently reaches over 17,000 with education on Israel and fighting the growth of antisemitism in our day. C4I Director, Robin Rowan, travels throughout the country to churches and various groups bringing education on the Middle East and Israel and training "How to Have an Effective voice to Government."
The more partners we have, the more people we can reach. Help us reach many more people this year. Thank you in advance for your help and support.
[paypal_donation_button align="left"]
Our Founder and Director, Robin Rowan, travels to DC often to speak to members of Congress on the US-Israel relationship. Several more trips are planned for 2018. Assistance with travel expenses is greatly needed.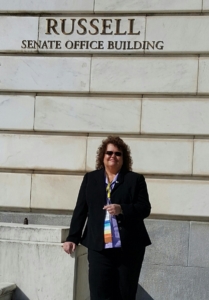 Lobbying  for Israel is hard work, but very rewarding. Please support the work, or join us in DC!
It's effective, but we can't do it alone…
Our Mailing address is
Church for Israel
c/o Robin Rowan
 2603 River Rock Court, Woodstock, GA 30188
Thank you and may God Bless you!