PARTNERS are the best!
For a donation of any amount, we will send a US-Israel lapel pin with our gratitude.
Proudly wear this beautiful pin and show your support of Israel. The card and sleeve are excellent for storing your pin.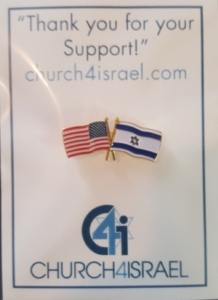 Be assured, your information will not be shared with any other organization.  
FUNDRAISING DRIVE! Thank you in advance!
Donate here a one-time gift.         
WE NEED MONTHLY PARTNERS –
Below is a dropdown menu (see the arrow on the right side!)  
You can choose the amount you would like to give each month using the drop down menu then hit "Subscribe".
Stayin' Alive, Stayin' Alive! Thanks for your help!

Your donations are needed and used for
 – Content Publishing  – Internet Hosting and Technical Costs    – Promoting posts on social media to reach more people with education  – Travel Expenses for meeting with Congress regarding Israel issues
Currently reaching tens of thousands with education on Israel and raising awareness and activism, our Director, Robin Rowan, also travels throughout the country to churches and various groups bringing education on the Middle East and Israel and training them how to have an effective voice to government.
The more partners we have, the more people we can reach. Thank you in advance for your help and support.
We DID IT! We hit over 17,000 followers on Facebook!
What does this mean? Our educational articles go VIRAL. We can't educate them without your help.
Our Founder and Director, Robin Rowan, travels to DC often to speak to members of Congress on the US-Israel relationship. Several more trips are planned for 2016 – 2017, and you assistance with travel expenses is needed for this important endeavor.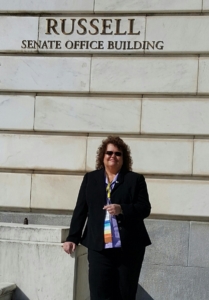 Lobbying  for Israel is hard work, but very rewarding. Please support the work, or join us in DC!
It's effective, but we can't do it alone…
Our Mailing address is
Church for Israel
c/o Robin Rowan
 2603 River Rock Court, Woodstock, GA 30188
Thank you and may God Bless you!