Donate to Help Fight Anti-Semitism
One Time Donations are needed and very appreciated,
but Monthly Partners are REALLY needed to help us meet our costs and reach more people. 
On the giving screen, Just hit "Set Up Automatic" to Donate monthly. Thank You!
We are currently filing our 501c8 status so donations will be tax deductible in a short time. We know that's not why you give. It is the work that is important!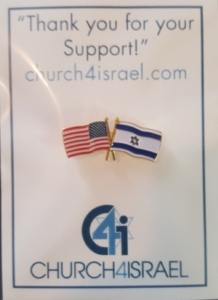 All who give will receive this US-Israel lapel pin with our gratitude. Please be sure to include your mailing address with your donation.

Be assured, your information will not be shared with any other organization.
EVEN BETTER,  MONTHLY PARTNERS!
Church4Israel needs $25 per month partners in order to produce the videos and webinars you have asked for!
Every little bit helps as our administrative costs need to be met!
Mailing address is
Church4Israel
c/o Robin Rowan
 2603 River Rock Court, Woodstock, GA 30188
Thank you and may God Bless you!