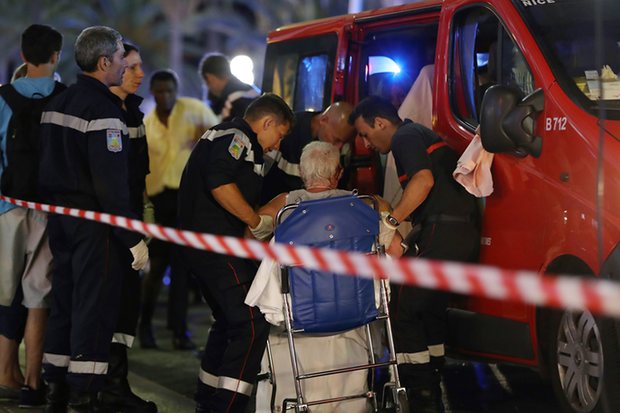 75 Dead and over 100 Wounded as Terror again Hits France, Did They See This Coming?
Robin Rowan 7-14-16
A horrific terror attack has occurred in Nice, France as thousands gathered on the coast of the French Riviera celebrating Bastille Day, similar to our 4th of July. A terrorist in a large box truck with explosives and guns shot and rammed into the packed crowded spectator area killing at least 75 and wounding over 100. The driver fired shots form the large box truck as he plowed through the packed crowd for over a mile before he was stopped and shot.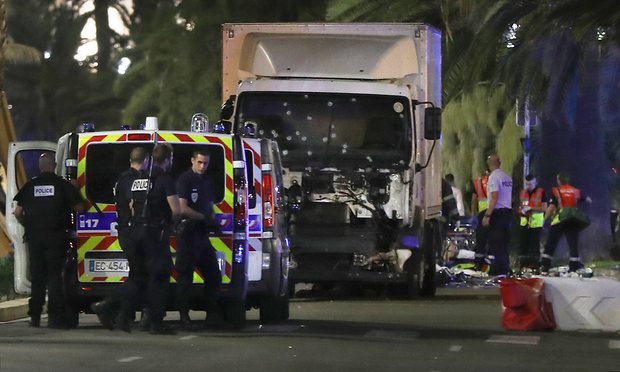 A terrorism analyst on BBC World News reported that four other car ramming attacks had occurred in France the last week that were not reported in the media. He said this type of attack has been called for by the leader of ISIS. He also reported an attack on a Jewish Community Center had been thwarted in Nice by police just days prior.
France has been under attack for two years by Islamist that have likely invaded via the open borders of the EU and the mass infiltration of refugees from Syria, Libya and northern Africa nations. A series of attacks starting with the Charlie Hebdo massacre, the murders in the Jewish deli, the nightclub attacks and also in August 2015 when a gunman opened fire on a high-speed train that was carrying more than 500 people, before he was overpowered by three Americans – two of whom were soldiers.
Jews have been under attack and fleeing France since 2014. They have been under attack from Islamist, now the terror doesn't stop with only the Jews. The entire nation is under attack by Radical Islam.
In 2012, 1,900 French Jews moved to Israel, followed by 3,280 in 2013. Then alarmingly, between January and March 2014, 1,400 Jews from France moved to Israel compared with with 353 people during the same period the previous year. The number shot to 7,000 in 2014 and nearly 8,000 Jews fled France for Israel in 2015. Of the Jews fleeing Europe, 82% of them came from France. According to the New York Times, about 5,000 French Jews moved to Great Britain in the last two years. 
"This phenomenon is speeding up" Ariel Kandel, who heads the Jewish Agency's French chapter, told Agence France-Presse, noting a "climate of anti-Semitism" behind the spike in emigration numbers.The Jewish community in France used to be one of the largest in Europe, estimated to be approximately 500,000.
A May 2014 article in Israel National News outlined a few of the recent attacks against the French Jews.
"A pogrom took place in Paris during a week of dramatic anti-Semitic attacks.
Two black men wielding a stun gun assaulted an Israeli man near a synagogue on Pavee Street in Marais, which once was the center of Jewish life in Paris. The man was knocked down by the gun.
A few hours before that, teenagers hurled stones at a Jewish institution in Sarcelles and shouted "death to Jews", while a Jewish school bus was pelted with stones.
Several people chanted anti-Semitic slogans at a Jewish woman near a Jewish center in Strasbourg, including "Merah max", referring to Mohammed Merah, the Islamist who killed four Jews at a school in Toulouse.Then a young Jewish woman, who was wearing a Star of David, was assaulted in a suburb of Lyon by a mother and daughter of Arab descent. "Dirty Jew, go home to your country, Israel", the daughter shrieked at Candace while striking her. A Jewish man belonging to the Chabad movement was beaten on a Paris metro train by four Arabs. One of them told him: "Jew, we are going to lay into you, you have no country"."
This follows a 2012 killing of a Rabbi and three small children in front of a Jewish school in southwest France.
Anywhere Antisemitism, and those who carry it, is allowed to grow it should be seen is a sign of a magnified systemic problem. The enemies of the Jews are the enemy of us all. If the Jews come under attack, it should be as a sign of what is to come for everyone.
We pray for France
Robin Rowan