Robin Rowan March 2, 2018
Much was said by Prophetic voices of March bringing in "Winds of Change."
Well those winds came into Washington DC with great power.
Rev Billy Graham had been honored in the U.S. Capitol Rotunda by the President and virtually all members of the House and Senate. He was only the 4th civilian given this honor, usually only for Presidents. There was no partisan bickering that day.
Next, the day of of Rev. Billy Graham's funeral, March 2 2018, Washington DC experienced 60-80 MPH wind gusts, shutting down the government and all the museums. Hundreds of thousands lost electricity as trees crashed in the wind as did road signs.
Flights were cancelled but I was lucky, my flight to DC left early Friday morning. Unfortunately the plane tossed violently in the wind for over 30 minutes as we tried to land. Many were sick to their stomachs.
I just prayed.
My room now overlooks the city. I can see the Capitol gleaming and the Pentagon right next to me.
But there is little traffic. The winds closed down the city.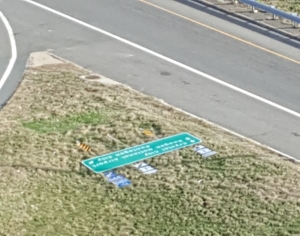 All federal workers in DC were forced to stay home on the day of Billy Graham's funeral.
Let's think about that for a minute.
America's Evangelist  has gone home and the Capital of the nation he loved so dearly is halted into silence by the 'strong winds.'
In the quietness I pray peace over this city. I'm here because the next three days the leaders of both Republicans and Democrats are coming together to make speeches from the same stage, in agreement on the same issue. I'm here to be a part of unity.
The one thing both sides of Congress and the President all agree on is America's support of Israel. Prime Minister Netanyahu will address both sides of Congress here at the Convention Center, where all Congressional leaders, both Democrat and Republican, and 18,000 activists have come together for 3 days of UNITY, for the U.S.-Israel relationship.
They all came together to honor Rev. Graham. Now they come together to do right by the Jewish people and Israel.
Lord let the winds of change bring peace, bring unity, and give them all courage to just do the RIGHT thing, and not what gives them power. May these winds drive out the hate, the rhetoric, the animosity. Lord let America's government have peace and wisdom in this unity. Amen.
[paypal_donation_button align="left"]
(Note – Saturday night March 3 to Tuesday morning March 6, the sessions of Policy Conference will be livestreamed from Washington DC on AIPAC.org.)