Israel Strikes Iran in Syria- War is Too Close.
The war between Iran and Israel is on. Actually, it has been on for some time and finally it is coming to the news media.
February 2018, An Iranian drone enters Israel airspace. In retaliation Israel takes out an Iranian military base in Syria and an Israeli F-16 is shot down. It is the first Israeli aircraft shot down in 30 years. Israel retaliates and takes out multiple Iranian bases in Syria that were supposed to be "secret bases."
For several years Iran has been using the cover of the civil war in Syria to arm Hezbollah and set up a strike on Israel from the north and from the west. Israel is now having to take action.
In the February 13th U.S. National Security briefing  reports emerged that 200 Russian mercenaries were killed in western Syria. Russia is supporting Iran and the Assad regime on the ground with not only weapons but also troops.
U.S. Ambassador Nikki Haley brought the dangerous escalation and the positioning of Iran in Syria up to the UN. She stated strongly that the United States will support Israel in this escalation.
Specifically, Iran has been using the cover of the civil war in Syria, which they are running for the Assad regime, to stockpile weapons and build military bases in Syria, on Israel's western border. Iran has also shipped massive Russian produced weaponry through Syria into Lebanon on Israel's northern border to build up the Hezbollah terror group into a sizable army.
Israel has made multiple airstrikes in Syria over the last five years targeting convoys that were transporting weapons, even anti-aircraft missiles, through Syria destined for Hezbollah in Lebanon. The Assad regime made no fuss over the airstrikes on their territory as they knew the weapony was not for their use, it was strictly Iran supplying Hezbollah to point at Israel.
The Russian made S-300 surface to air missile, pictured below, is now stationed in Syria by Iran and was used to bring down the Israeli F-16. Israel had conducted air strikes in the past on the convoys carrying this to prevent it from being set up in Lebanon. Israel could not allow it in Lebanon for fear of it being in range of the Ben Gurion commercial airport in Tel Aviv.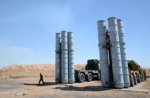 For more details on the move of Russian arms bought by Iran to arm Hezbollah, see Church4Israel's 2017 article "SYRIA 101 and Why You Should Care."
The situation dramatically changed on February 11, 2018. An Iranian drone was shot down over Israeli airspace at the Golan Heights. In retaliation for breaching the Golan buffer zone, Israel F-16s launched an airstrike against the military base that sent the drone. It was Iranian built and manned. The drone was a clone of an American drone captured by Iran during the Obama administration.
One of the F-16's was shot down as it returned over Israel. Fortunately the pilots were able to eject and were rescued.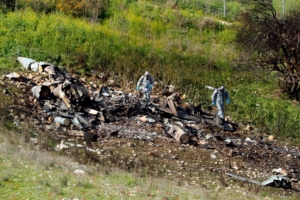 Amos Yadlin, General (ret.); Executive Director of Tel Aviv University's Institute for National Security Studies (INSS) tweeted "Israel downed the UAV and responded with its first ever attack on a manned Iranian site. The Syrians then downed an Israeli plane over what appears to be Israeli territory."
This is an escalation that will not stop. Iran MUST be dealt with in Syria. They can not be allowed to set up military bases in Syria.
The United States will support Israel in preventing this. We thank Ambassador Haley for making that crystal clear to the United Nations.
[paypal_donation_button align="left"]