UPDATE on Iran nuclear negotiations 3/31/15
UPDATE and actions to take regarding Iran nuclear negotiations –
3/31/15 6 pm Eastern time, is the deadline for a framework negotiation.
The US Congress has put tight sanctions on Iran the last few years over their nuclear program, followed by UN sanctions, which has caused Iran's currency to plummet and has hurt them economically. Iran wants the sanctions lifted. Rules must be put in place, as part of these current negotiations, determining how much the sanctions are lifted and how they will be reinstated if Iran doesn't allow UN weapons inspectors in, or cheats in the nuclear agreement.
Iran is also being asked to ship their stockpiles of Uranium to Russia so they can not quickly build a weapon, but they are fighting this. They are insisting on keeping the uranium.
Iran's long term intentions are very clear, they want to destroy Israel, and just last week the Iranian leader told his people "death to America."
The US Congress has two bills waiting in the wings. One applies if a deal is made, the other is applicable if a deal is NOT made, and it puts on even stronger sanctions.
The Iranian Parliament, representative of their people, has to vote on the deal. But the Obama administration is not allowing the US Congress, our representatives, to have any say in it. By the US Constitution any Treaty with a foreign nation requires ratification by the US Senate. The Administration is not recognizing it as a treaty, avoiding Congress. There are many men and women in Washington fighting this!
What can you do?
Action – Call the White House (202) 456-1111 and tell them "We are standing with Israel and the long term security of Israel and of the United States. Iran is the largest State sponsor of terrorism and can not be trusted. We object to this 'secret' deal with Iran. Just as the Iranian people have a say in the deal through their Parliament, we want Congress to have oversight and a say in this agreement with Iran. It has all aspects of a treaty, and by law the Senate should have a say in it. We, the American people, want oversight over any deal with Iran."
Call your Senator – (Senate.Gov to find the number of your Senator.)  Ask them to co-sponsor the The Iran Nuclear Agreement Review Act of 2015 (S.615), authored by Sens. Bob Corker (R-TN) and Robert Menendez (D-NJ), which establishes a procedure for congressional review of any nuclear agreement with Iran. Thank them if they have already co-sponsored. Let them know you are a Christian standing with Israel. Any deal should significantly dismantle Iranian capabilities to block its path to a nuclear weapon.
Pray – Lord you are judge and jury. We declare there shall not be any deal with America's name on it that endangers Israel. We declare that hearts will change and a GOOD deal is made that will slow Iran down. Lord we ask your hand on Iran as they threaten Israel. Lord reveal all their plans against Israel. We thank You for our Congress that stands with Israel, Lord give them strength and authority to make a difference in this matter.
We pray for Your mercy on our nation as we, the people, pray and support Israel.
See also article "A Treaty or not a Treaty, that is the question."
Also article "Iran Parliament get to vote on Nuclear Deal, US Congress should also."
Updated 9:10 AM ET, Tue March 31, 2015
Lausanne, Switzerland (CNN)With just a few hours to go, can Iran and world powers make a deal?
As U.S. Secretary of State John Kerry said Tuesday, "You'll have your answer before the end of the day."
Kerry spoke around the negotiating table, alongside top officials from Iran and the P5+1 — a group that includes the United States, Britain, China, Russia, France and Germany. Such talks have been going for years, with Tuesday's self-imposed midnight (6 p.m. ET) deadline the latest of several aimed at showing progress between all sides. For the West, the end game is that Tehran doesn't develop nuclear weapons; for Iran, it is that sanctions are lifted swiftly and completely.
The more important deadline — for a conclusive agreement, with all the specifics hammered out — is June 30. A lot could change in those months, including either side backing out. And the contentious points that have divided everyone for years will remain.
Still, to get to the point of even talking about those technical details, the parties first must set up the parameters for such a final deal.
That is what's happening Tuesday in Lausanne, Switzerland. Depending on whom you talk to, the parties are either on the verge of a milestone agreement or still separated on some key points.
Russian Foreign Minister Sergey Lavrov is among the optimists. Russia has been closer than most to Iran even as it's gone along with sanctions.
"Prospects for this round of talks are not bad, I would even say good," Lavrov said before heading to Switzerland for the final round of negotiations, according to state-run Sputnik news agency. "The chances are high."
But in comments Monday to CNN, a more cautious Kerry conceded there was "a little more light there today, but there are still some tricky issues."
"There still remain some difficult issues," the top U.S. diplomat said. "We are working very hard to work those through … with a view to get something done."
Three sticking points
After working through the night, representatives from the key players — most of them foreign ministers — met together Tuesday morning and afternoon to try to resolve differences in what Chinese Foreign Minister Wang Yi described as "the final stage" of "these marathon-like negotiations."
Iran has been under intense international pressure and has faced crippling sanctions over its nuclear program for years.
Yet the sides began moving away from stalemate with Iranians' 2013 election of President Hassan Rouhani, who has insisted that Iran wants a peaceful nuclear energy program but not weapons. Viewed as a moderate — especially compared with other figures, including Iran's supreme leader, Ayatollah Ali Khamenei — Rouhani campaigned on a platform that he'd work to help Iran's economy by reducing its rifts with the outside world.
His government has had some success alleviating those tensions, spearheading interim agreements that have loosened some sanctions. But a comprehensive and final deal has remained elusive.
Specifically, talks in Lausanne are hung up on three important points:
• How quickly or slowly Iran will be allowed to advance its nuclear technology in the last five years of the 15-year agreement.
• How quickly crushing U.N. sanctions will go away.
• Whether sanctions will snap back into place if Iran violates the deal.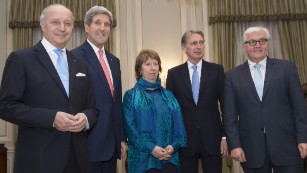 Iran wants them gone for good, with Lavrov claiming that the U.N. Security Council will lift the sanctions right away. But other international negotiators want merely to suspend them, so they can be reapplied as leverage if Iran does not keep the bargain.
Agreement on the points is crucial, a Western diplomat said.
"There cannot be an agreement if we do not have answers to these questions," the diplomat said.
Stockpile controversy
Confusion also flared over another important detail of the possible deal, with claims Iran was backpedaling.
On Sunday, an Iranian negotiator told journalists that Tehran would not send fissile material to Russia, which diplomats had earlier told journalists was part of the plan to put potential bomb-making materials out of reach. The idea is that, if Iran doesn't have a stockpile at its fingertips, it will have a longer "breakout time" to make a nuclear weapon should negotiations fall apart.
"The export of stocks of enriched uranium is not in our program, and we do not intend to send them abroad. … There is no question of sending the stocks abroad," Iranian Deputy Foreign Minister Abbas Araghchi said.
But on Monday, U.S. officials said the rumblings in the media about the stockpile issue were overblown.
Negotiators had not yet decided any specifics about the disposal of fissile material, and Iran has made the comments many times before, a senior State Department official said, citing a list of previous examples of such statements in press reports.
"This notion that in the last 24 hours that somehow there's been a shift in this issue, sort of a hardening of positions, just isn't true," State Department spokeswoman Marie Harf said at a news briefing.
"This is a remaining issue that we have to resolve but hasn't, quite honestly, been one of the toughest ones," Harf said.