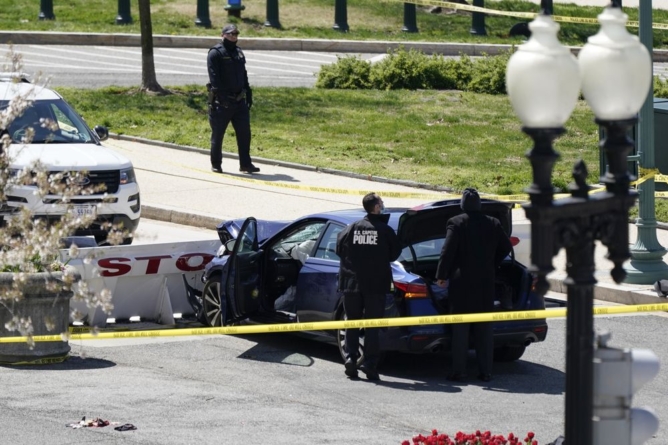 Islamic Style Attack on Capitol
Robin Rowan for Church for Israel and Truth to Policy April 2, 2021
During Passover and on the Christian celebration of Good Friday leading into Easter weekend, Washington DC had an Islamic-style car-ramming and knife attack on the US Capital. An American follower of the Nation of Islam did car-ramming into the north barrier of the US Capitol. The assailant then merged from the car with a large knife or machete aggressively attacking Capitol police. During the car-ramming two Capitol police officers were injured, one fatally. The assailant was shot and later died.
This is a common terror attack style we have seen in Israel and throughout the world. Palestinians and Islamic Jihadists attack the Israeli Defense Forces (IDF) and even innocent citizens of Israel by this car ramming tactic and also with knife attacks.
In Israel, America's closest ally, car-ramming, and knife attacks are one of the predominant attack methods by terrorists as it is easier to commit and less detectable than suicide bombings and has a high rate of casualties. Car-ramming attacks are used by jihadists not only against Israelis but also throughout Europe.
The Department of Homeland Security issued a memo on car-ramming attacks in 2010 stating –
"Terrorists overseas have suggested conducting vehicle ramming attacks—using
modified or unmodified vehicles—against crowds, buildings, and other vehicles. Such attacks
could be used to target locations where large numbers of people congregate, including sporting
events, entertainment venues, or shopping centers. Vehicle ramming offers terrorists with limited
access to explosives or weapons an opportunity to conduct a Homeland attack with minimal prior
training or experience. "
The authorities in Washington DC are quickly saying this attack appears to be a 'lone-wolf attack and not a broader attack within hours of the attack happening.
In a 2014 video message, Abu Muhammad al-Adnani, the chief spokesman for the Islamic State, told listeners, "If you are not able to find an IED or a bullet, then single out the disbelieving American, Frenchman, or any of their allies. Smash his head with a rock, or slaughter him with a knife, or run him over with your car, or throw him down from a high place, or choke him."
The Washington Post issued an article as car-ramming became a popular terror tactic in the early 2000's describing how the March 22, 2017 London attack involved one of terrorists' new favorite tactics: driving a vehicle into a crowd.
In London, a vehicle plowed into pedestrians on Westminster Bridge, leaving at least two dead and 20 injured. The attacker then stabbed a police officer at the gates of Parliament before being gunned down.
Recently in Israel, there have been multiple car-ramming attacks. March 28, 2021, there was a car-ramming attack in Judea/Samaria. Another attack took place on January 22 in Israel and on December 1st in Germany two people were killed in a car-ramming attack. In Israel there were multiple car-ramming attacks on November 25, 29, and 30th according to the Times of Israel. 
Islamic Knife Terror Attacks
The BBC reported in October of 2020 the uptick in Islamic style knife attacks, common Islamic terror attack method. The article titled "France Attack, Three Killed in 'Islamic Terrorist' Stabbings" details the recent events.
In December 2019 there was a stabbing attack on the London Bridge that killed two university students.
In 2015 Israel experienced a wave of terror they called "The Stabbing Infintada."
According to the Jewish Virtual Library, as of February 2018, there had been 192 stabbing attacks and 139 attempted stabbings; 173 shooting attacks; 61 vehicular (ramming) attacks, and one bus bombing targetted at Israelis during the uptick in violence beginning in September 2015.  Sixty-two individuals have been killed in these attacks.
Timing Matters
As the Washington DC police quickly say there is no tie to terrorism in this attack before the investigation is barely underway, consideration needs to be given to the timing. This attack has happened during the Jewish Holy week of Passover. It is also the Christian day of Good Friday, leading to Easter Sunday in celebration of Jesus' death as the lamb of God and His resurrection.
The Passover massacre was a suicide bombing carried out by Hamas at the Park Hotel in Netanya, Israel on 27 March 2002, during a Passover seder. Thirty civilians were killed in the attack and 140 were injured. It was the deadliest attack against Israelis during the Second Intifada.
There have been several attacks on Jewish communities during Passover including near San Diego in 2019 when a gunman with an AR-15 entered a synagogue and killed one woman, injured three others, before being stopped.
Again, the media needs to wait and let the investigations go forth before they quickly want to say "no terrorism here!"